Tired of traditional vacation options and looking for a unique experience? Try dome glamping!
Norway is a perfect destination for glamping. From beautiful fjords and majestic mountains to lush national parks, the country offers a unique blend of tranquillity and adventure. One of the most exciting forms of glamping that has grown in popularity is 'dome glamping'. These hemispherical domes provide a unique and luxurious way to experience Norway's pristine landscape.
What is dome glamping?
Dome Glamping combines the best of camping and luxury, offering a unique opportunity to experience nature without sacrificing comfort. These domes, often made of durable and transparent material, allow you to enjoy panoramic views of your surroundings, whether it's a fjord, mountain range, or the Northern Lights.
One of the main benefits of dome glamping is the ability to be close to nature while still having the comfort of a luxury hotel. You can wake up to the sound of birdsong, enjoy delicious meals, and then retire to a comfortable bed at night. Plus, many of these domains are equipped with modern amenities you're used to having available.
Spectacular Dome Smiberget
Dome Smiberget is located in Leksvik in Indre Fosen municipality in Trøndelag. Right on the edge, on a mountain right by the Trondheimsfjord. Here you can enjoy the silence, the view, fish jumping and boats and ships passing on the mighty fjord.
Recently, travel website Campanyon highlighted Dome Smiberget as one of 20 places "you won't believe exist in Norway".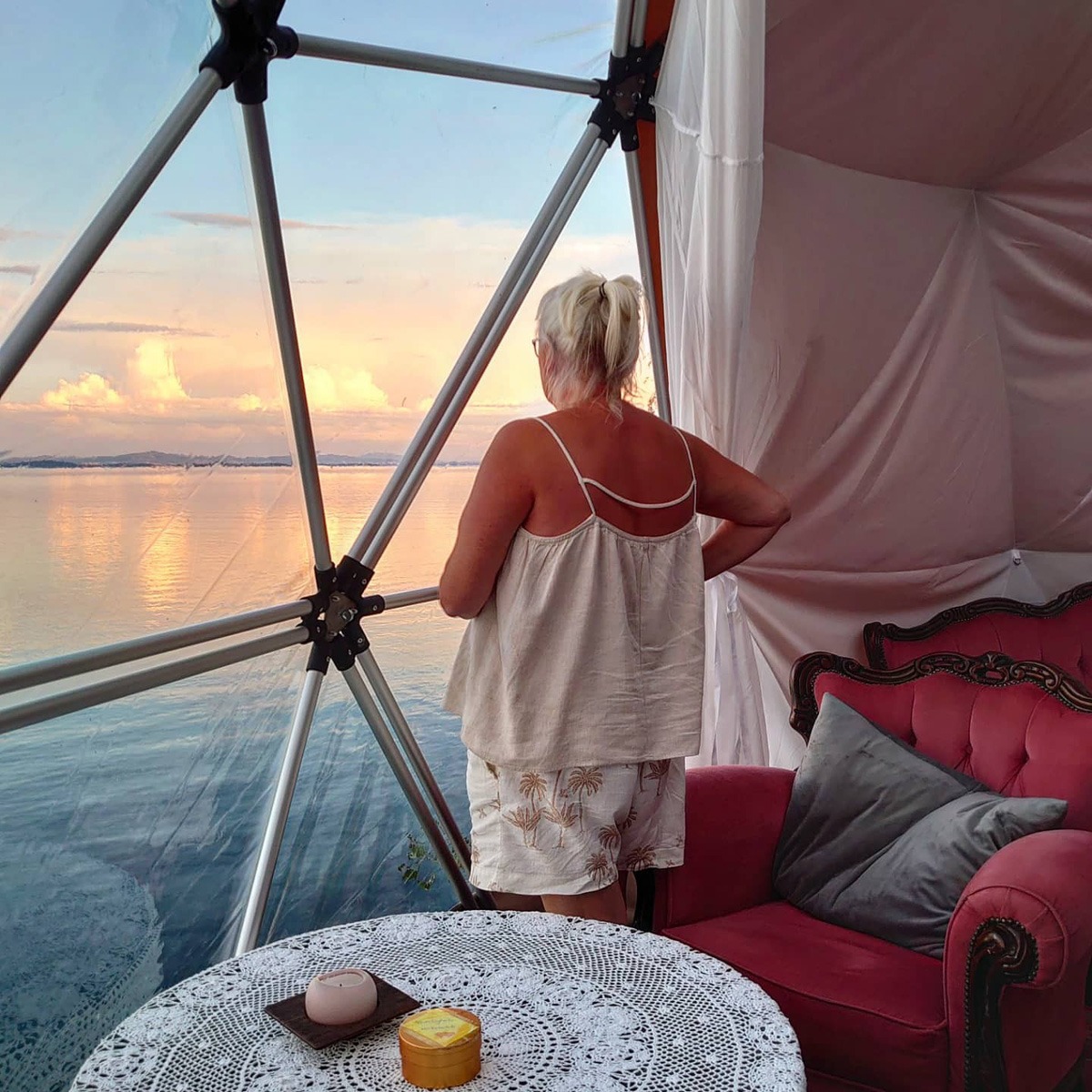 Feedback from visitors to Dome Smiberget
The feedback on Campanyon:
"Absolutely fantastic, highly recommended."
"Very good. Good service, good atmosphere in the igloo."
"Great stay in the Dome, very good standard in the Dome, and great service from the hosts."
"Absolutely great! 10/10. Fantastic space and a super service. We will definitely be back again."
Some of the feedback on Google, where Dome Smiberget has an average of 4.9 out of 5 points and over 60 feedback:
"Fantastic location, unique atmosphere in the restaurant, friendly staff who deliver to the max. Deliciously prepared three-course dinner and lots of good selection of drinks. Slept under the stars in Dome Smiberget. Perhaps Trøndelag's most beautiful overnight experience."
"After one night in the Dome, with three courses, jacuzzi and breakfast served at the door, this is one of the most amazing places we have been to! The hospitality was indescribably good, and we recommend taking a trip to experience the fantastic nature, the local food and not least the friendly people who really take care of visitors."
"What a gem! Not even a real drizzle can bring down anything in this place. En natti globen was absolutely beautiful. The food was very good and we were well taken care of by the very nice owners here. Thank you for your stay."
Read more about and book accommodation in Dome Smiberget.
I also recommend you watch the video about Dome Smiberget and the rest of the offer at Hjellup Fjordbo:
Some other dome options in Norway
Norway has some of the most amazing dome glamping sites in the world. Here are a few more of them:
Unique Ecolodge - Tjørhom
Average of 7.4 out of 10 points on Booking.com
Indulge yourself in nature with a stay at the unique dome ecolodge in Tjørhom, in Sirdal municipality in Agder. Snuggle up with your loved one in the luxurious double bed, surrounded by 360 degrees of stunning nature views through the transparent roof. On cold nights, you can light up the wood-burning stove and enjoy the romantic getaway you've been dreaming of.
Basecamp NORD - Moen
Average of 8.2 out of 10 points on Booking.com
Basecamp NORD is a comfortable indoor camping experience located in Troms. This sophisticated destination gives you the opportunity to immerse yourself in the visuals of the outdoors while enjoying the comfort of the indoors.
Wild Caribou Dome - Lakselv
Average of 9.7 out of 10 points on Booking.com
Wild Caribou Dome is a paradise that inspires you to create and enjoy every moment. Whether it's a cozy wedding night together or a romantic date, this glamping site will make all your dreams come true. Located in Lakselv in Finnmark, this is a cozy dome with a double bed and two chairs made for reading your favorite novel after a day exploring the surrounding nature. Inside, it also has a cozy fireplace and a wood-burning stove. Book this place from November to February if you want to enjoy the polar nights.
Conclusion
Dome Glamping in Norway offers a unique opportunity to experience the country's natural beauty up close. With luxurious facilities and stunning surroundings, these unique glamping sites provide an unforgettable experience. Whether you're a seasoned glamper or a novice, there's no doubt that a stay in one of these domains will leave you with memories to last a lifetime.
Frequently asked questions about dome glamping
1. What is dome glamping? Dome glamping combines the best of camping and luxury, providing a unique experience of nature without sacrificing comfort.
2. What are the benefits of dome glamping? You can enjoy the closeness of nature while having the comfort of a luxury hotel. Many of these domes are equipped with modern amenities.
3. What can I expect from a dome glamping experience? You can expect to wake up to the sound of birdsong, cook over a campfire or enjoy meals with your dome host, then retire to a comfortable bed at night. You'll also be able to enjoy the stunning views of Norwegian nature.
Now that you've gained all this knowledge about dome glamping in Norway, why not try it yourself? It's time for your next adventure! You are also very welcome to Dome Smiberget at Hjellup Fjordbo, just by the Trondheimsfjord in Trøndelag.
By the way, did you know that the word dome comes from the Latin word for house? At least that's what the Store norske leksikon says.