Hjellup Fjordbo is beautifully located in scenic surroundings in Leksvik on the peninsula of Fosen in Norway
Here you can have a comfortable stay by the Trondheimsfjord with breath-taking views and just enjoy peace and quiet in stunning surroundings.
There are also a lot of possibilities for activities for those who would like a more active holiday, among others hiking and perhaps visiting a mountain farm on your way, mountain climbing, bicycle rides and kayak paddling .
også mulig å leie båt eller kajakk i Leksvik, dersom du ønsker å utforske fjorden og det den har å by på.
We wish you all a wonderful stay and a lot of good experiences here at Hjellup Fjordbo!
Activities

The area around Hjellup Fjordbo invites you to activities of many different kinds:
There quite a few fantastic hiking tracks both by the fjord and higher up in the mountains. The booklet Tours in Leksvik has some suggestions for such hiking, both with maps and marked tracks. On the website This web page also has some good suggestions of such hiking tracks.
During the summer Leksvik has a number of mountain farms that are worth a visit. These can be good hiking destinations and provide experiences in the form of good stories, traditional food and contact with farm animals.
Munkstigen is known as a spectacular climbing trail for the tough ones. It is situated only 20 minutes drive by car from Hjellup Fjordbo.
For those who would like to go fishing, there are several places in the area where it is possible to catch fish from land. In Leksvik harbor they also have boats for rental for those of you who would like to use a boat for fishing.
We convey kayak rental for those who would like a different nature experience.
Leksvik and the surroundings may also be explored by bicycle, and we convey bicycle rental for those who finds this interesting.
Grande general store museum really is a visit worth. Here you can experience how life in a general store in Leksvik was 100 years ago.
The village of Leksvik has two groceries: Bunnpris and Coop Prix. Here you can find most things you need for cooking. There are also three restaurants in Leksvik: Krobrua (open during the daytime on weekdays), Leksvik Restaurant & Cafe and Harry's Spiseri
At Hjellup farm you can take a closer look at farm animals such as boer goats and cows.
There are many nice places by the seaside in the area near Hjellup Fjordbo well suited for diving, grilling or just relaxing and enjoying the surroundings.
The light conditions by the fjord are always changing, depending on the season and time of the day, something that can bring out creativity and recreation.
The area around the holiday houses has it's own play ground where children can be active.
All the year around there are culture happenings going on peninsula of Fosen and in Leksvik. Depending on time of the year you can visit revues, theatres, concerts, museums, etc. Such cultural events will be announced in our activity calendar.
For updated activities follow our activity calendar below. Pay attention!
Gårdsutsalg

Hjellup Fjordbo AS er tilknyttet gården Hjellup i Leksvik. Her driver Marit og Ola Hjellup gårdsbruk med melkekyr og boergeiter. Vi har også salg av utvalgte produkter fra gårdens produksjon:
Kjesnabb med ramsløk, spekepølse á ca. 240 gram, produsert av kjøtt fra egne boergeit-kje——————————— Pris, kroner 120 pr. stk.
Spekepølsene har mye smak og passer godt både som pålegg og spekemattilbehør til grøt, koldtbord og lignende.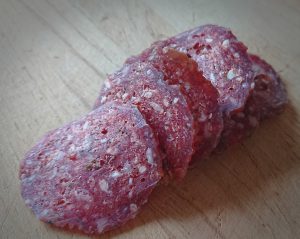 Skinn av boer-kje (prisene avhenger av størrelsen på skinnet)——————————————————————- Pris pr. stk 800 – 900 pr stk
Skinnene er myke og fine, og passer f.eks godt til å gi bort i gaver, som sitteunderlag, på hytta, i godstolen e.l.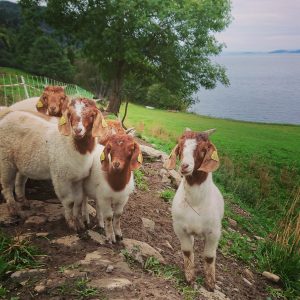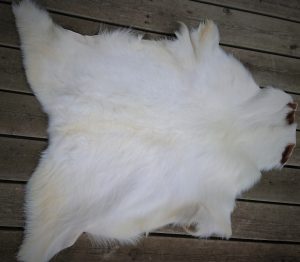 Saft av rips og plomme med et hint av anis, flasker á 0,7 liter konsentrat ————————————————— Pris kroner 100 pr. flaske
Safta har mye smak og nydelig rødfarge. Kombinasjonen av rips og plomme med et hint av anis gir en utsøkt smak. En flaske av denne saften er fin å gi bort i gave eller å servere til gjester som et alternativ til vin.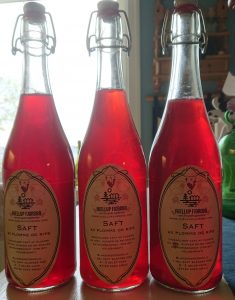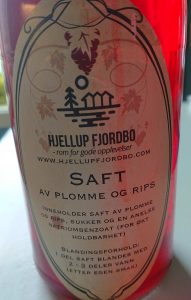 Accomodation

At Hjellup Fjordbo there are two different accommodation options:
The holidayhouses at Drivhussletta have an amazing location on the beach. The big windows gives a lot of light and a wonderful view towards the fjord. This is a nice place to stay if you would like to stay close to the fjord and enjoy the view and closeness to the sea.
Grindaplassen - a cabin that lies in beautiful surroundings with a lively and striking view towards Trondheim and the southern side of the Trondheimsfjorden. This is a nice place for those who need peace and quiet and preferably do not want people too close to them.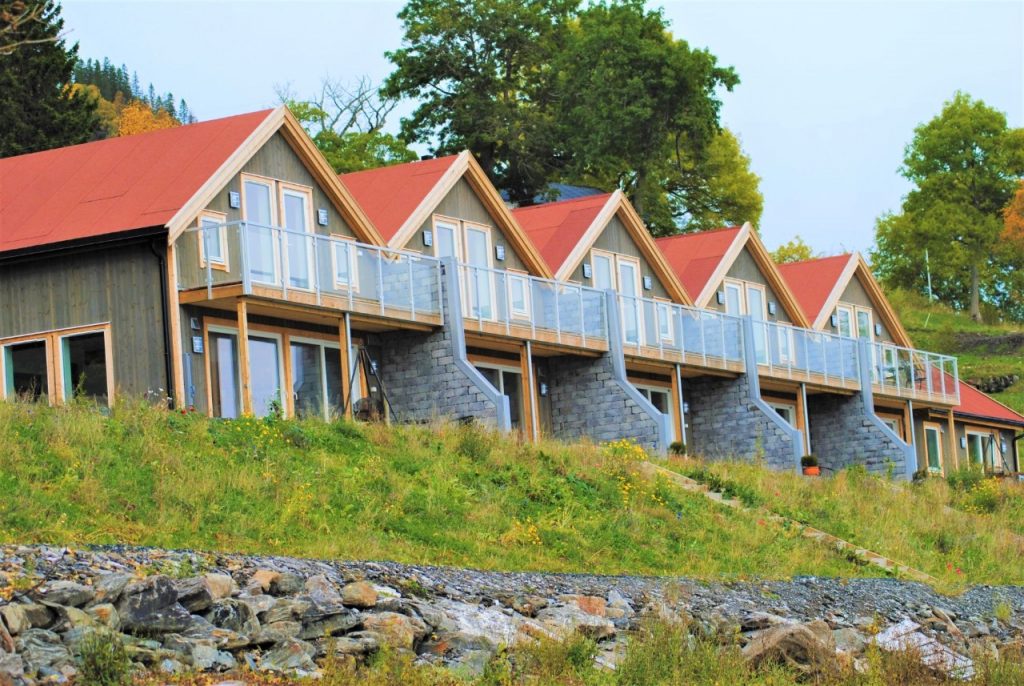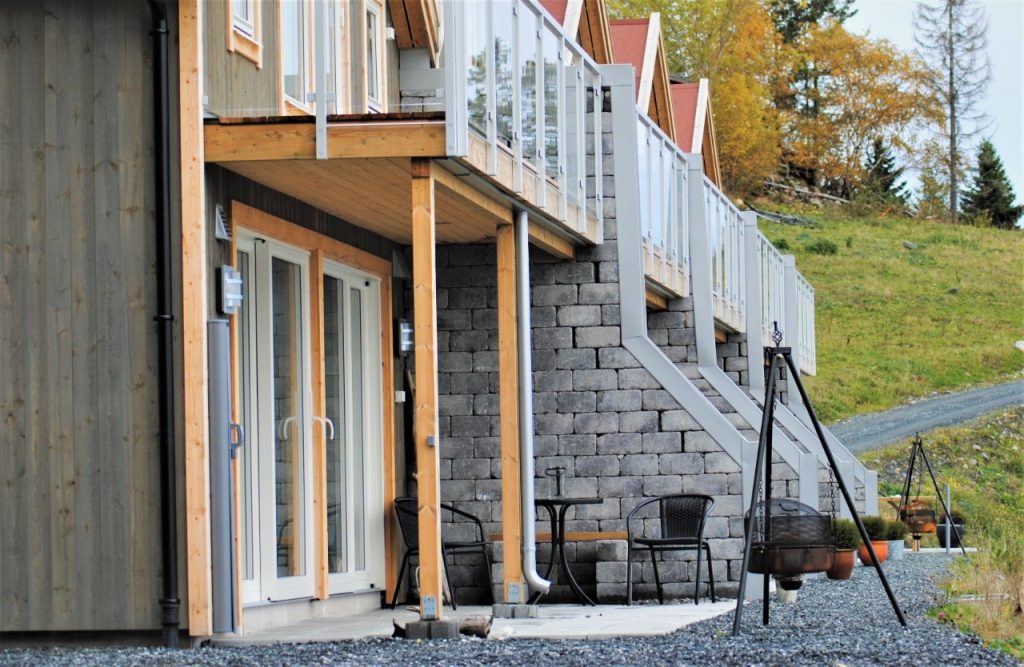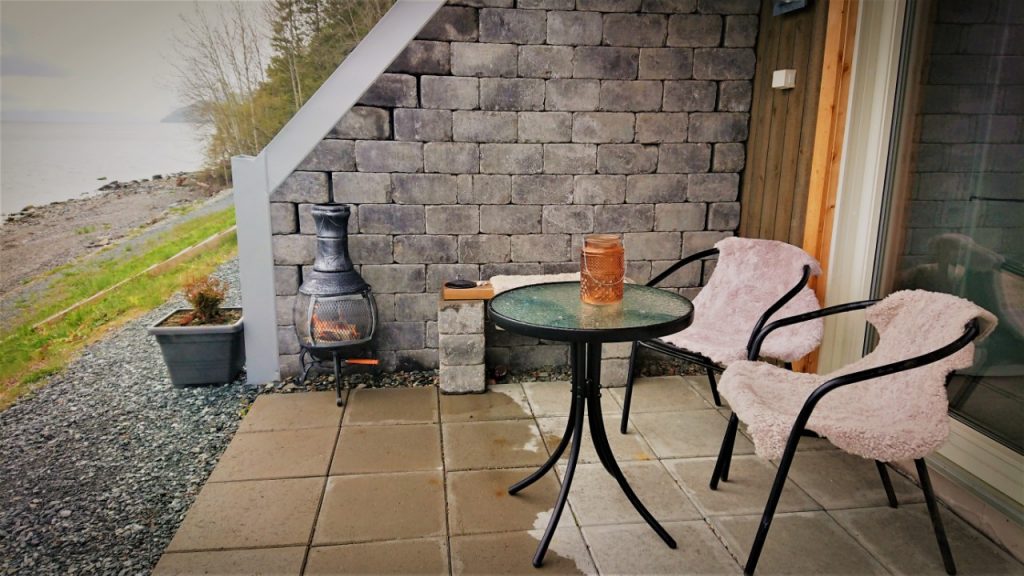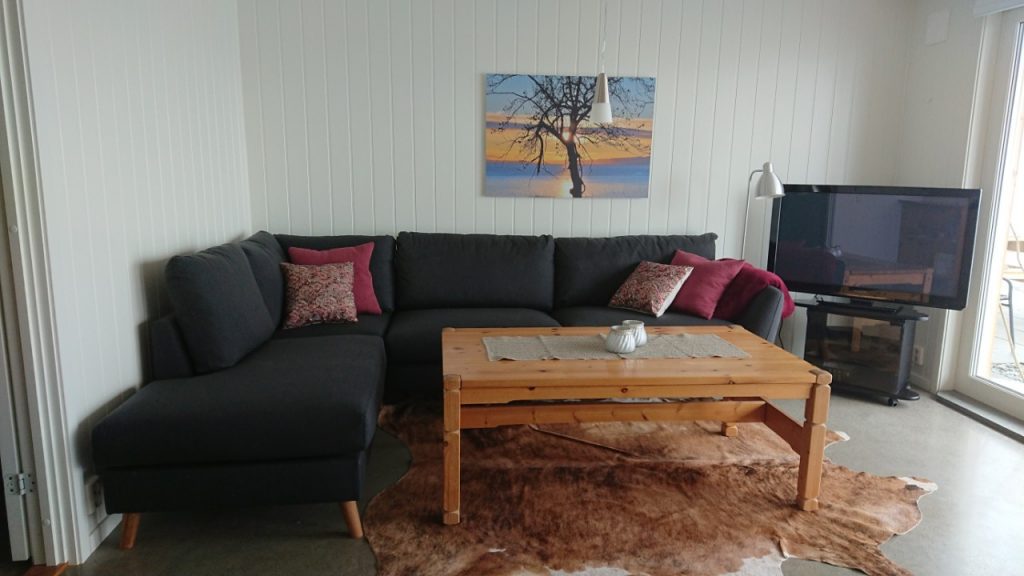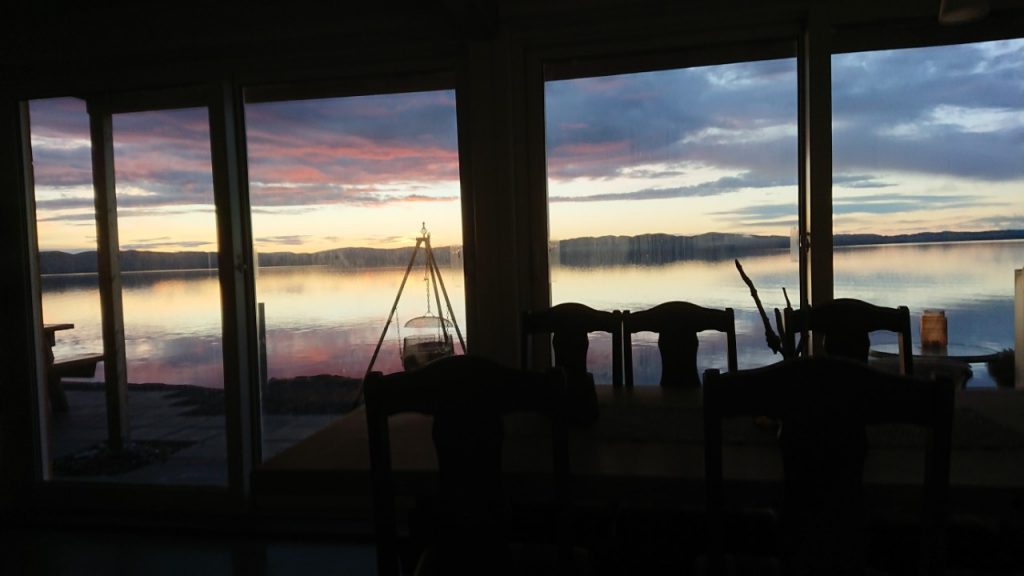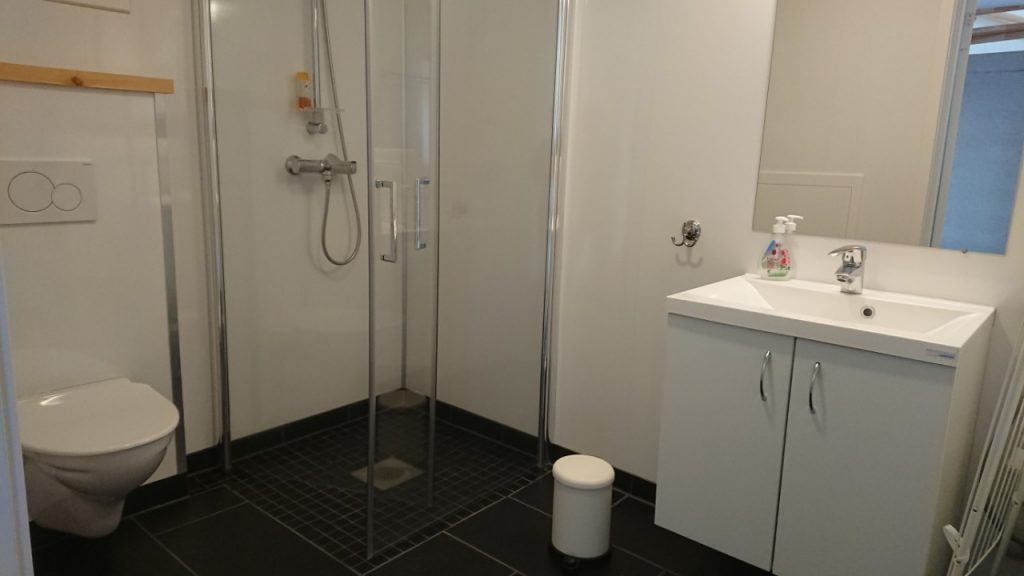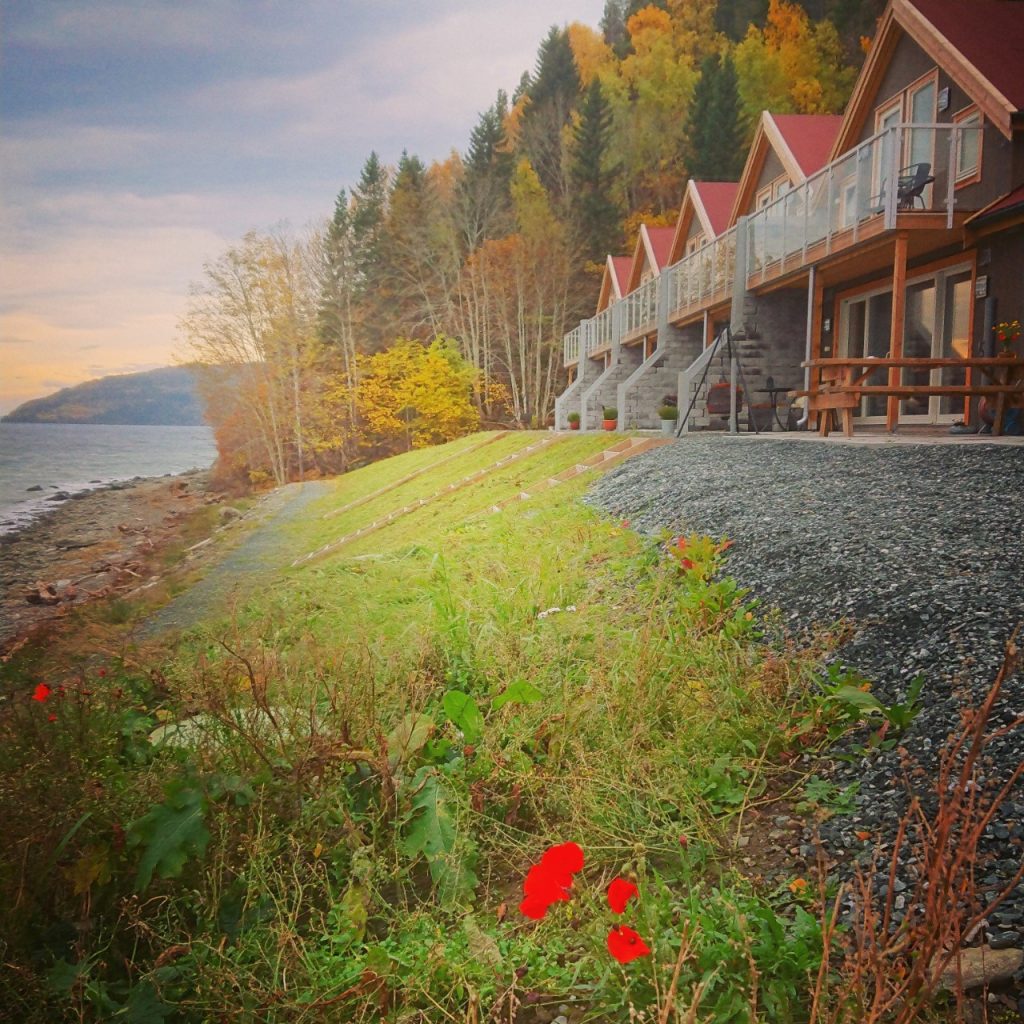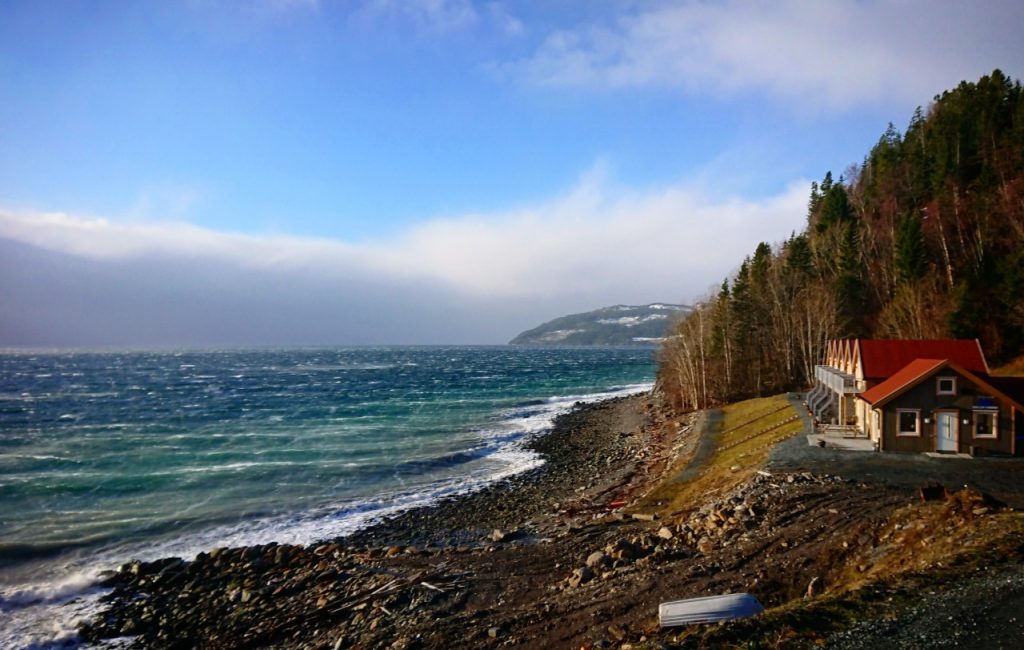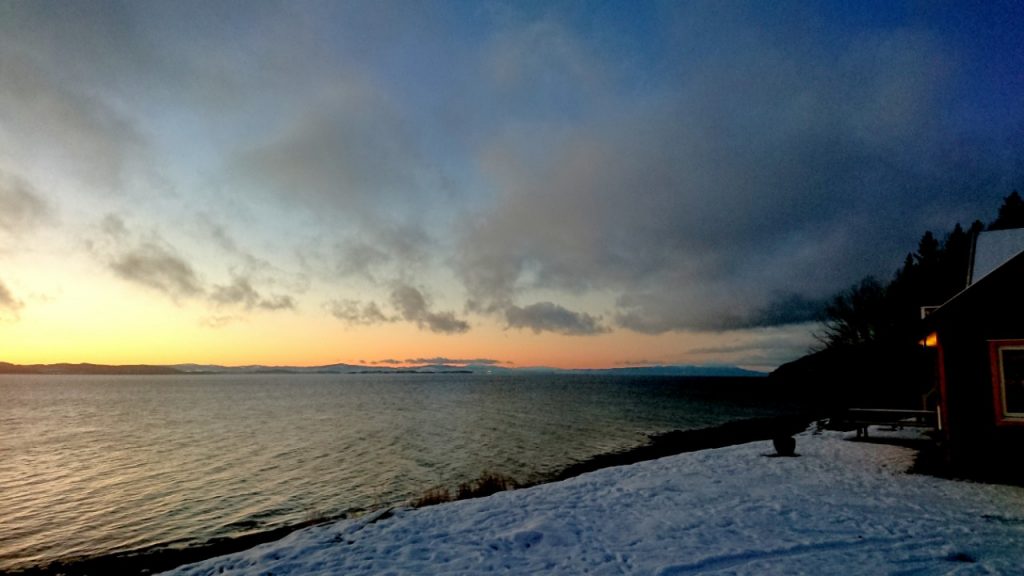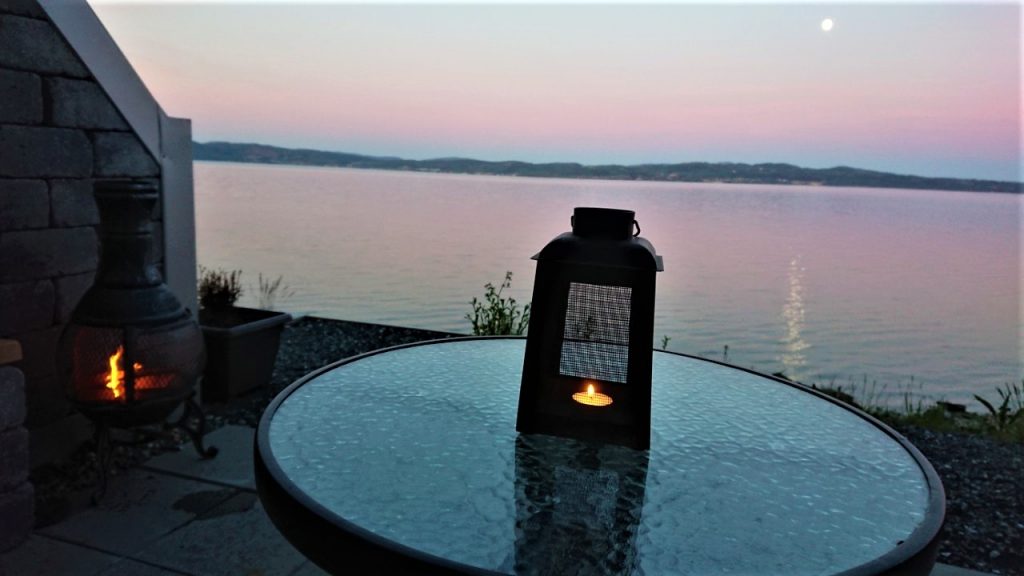 Price per week:
from 9100 NOK + a cleaning fee of 800 NOK
Price per weekend:
from 2600 + a cleaning fee of 800 NOK
| | |
| --- | --- |
| Size | 82 KVM |
| Bedroom | 3 |
| Beds | 6 |
| Bath | 1 |
Drivhussletta – houses on the beach
We have five holiday houses at Drivhussletta. They have an amazing location on the beach. The houses have a combined kitchen and living room in addition to a bathroom on the ground floor. The kitchen is fully equipped and there is a washing machine in the bathroom. The south wall in the living area consist of big glass sliding doors that can be opened to a nice, private patio.
In the first floor there are three bedrooms; one with a double bed and two with two single beds in each. It is also possible to add an extra bed on request. The largest of the bedrooms has a door leading out to a balcony with wonderful view to the fjord.
Wifi is included if you rent a house at Drivhussletta.
In connection with the holiday houses there is also a room which can be rented for small parties and conferences.
Drivhussletta holiday houses is a place where both young and old will enjoy to stay. Welcome to a stay full of good experiences!
Facilities:
Towels / linens included
Coffee mashine
Dishwasher
Television
Washing machine
Garden furniture
Pets allowed
Outdoor fireplace
Campfire pan
Close by:
Fishing
Grocery store
Sea/fjord
Beach
Village
Hiking area
Price per week:
from 7700 NOK + a cleaning fee of 800 NOK
Price per weekend:
from 2200 NOK + a cleaning fee of 800 NOK
| | |
| --- | --- |
| Size | 45 m2 |
| Bedroom | 2 |
| Beds | 6 |
| Bath | 1 |
Grindeplassen - Old-style cottage with today's standard
The cottage of Grindaplassen is located in scenic surroundings with an amazing view to the Trondheimsfjord and the beautiful light changing according to season and time of the day. In addition yo the two bedrooms, there is a small loft in the cottage where it is possible to sleep on mattresses on the floor. In this cottage you have all the facilities you need to have comfortable and pleasant stay. You can either choose to enjoy the view from the big windows in the living area while enjoying the heat and crackling from the fireplace in the cottage or take a trip to explore some of the beautiful surroundings by the fjord or the beautiful Leksvik nature.
A stay at Grindaplassen invites to relaxation and good experiences!
Facilities:
Towels / linens included
Coffee machine
Dishwasher
Microwave oven
Fireplace
Television
Washing machine
Garden furniture
Campfire place
Pets allowed
Close by:
Fishing
Grocery store
Sea/fjord
Beach
Village
Hiking area
The location

Hjellup Fjordbo is beautifully situated on the peninsula og Fosen in a traditional and lively farm with a history dating back hundreds of years in time. Here on the north side of the Trondheimsfjord, the views and lighting conditions are worth a visit. The place has a good atmosphere that provides space for recreation, peace and relaxation and good experiences. Hjellup Fjordbo is located near the village of Leksvik where most services are available, as well as many exciting cultural activities throughout the year.
Siste fra bloggen:
Sikringsarbeidet i lyd og bilder
Publisert: 7. June 2019
Sikringsarbeidet nedenfor ferieboligene på Hjellup Fjordbo er godt i gang nå, og Ragnar Næss har vært og filmet litt av arbeidsprosessen. Trykk på linken nedenfor for å se videoen. Film av sikringsarbeidet på Hjellup Fjordbo.
---
Vi åpner igjen!!!
Publisert: 10. May 2019
Nå, endelig har vi gode nyheter å komme med her fra Hjellup Fjordbo 😀 👍. Etter at mange gode, lokale krefter har stått på, ser finansieringen ut til å komme i orden, og vi kan starte opp det nødvendige sikringsarbeidet som må til for å få lov til å åpne anlegget for utleie. Sikringsarbeidet starter i løpet […]
---
Nytt år – nye muligheter
Publisert: 14. January 2019
Nytt år – nye muligheter Så er vi trådd inn i et nytt år, og vi håper og tror på et godt år for både Hjellup Fjordbo og våre kunder og følgere. 2018 ble et utfordrende år her på Hjellup Fjordbo, og litt annerledes enn vi hadde sett for oss. Første halvdel brukte vi til […]
---
Ras og mye mediaoppmerksomhet
Publisert: 7. June 2018
De som har fulgt med i media, har sikkert fått med seg nyhetene om raset som gikk her på Hjellup onsdag 20. juni.  Litt av et sjokk for oss, og nå i ettertid er det mange tanker i hodet. Først og fremst er vi så glade for at ingen liv gikk tapt. Utfallet kunne jo […]
---
Offisiell åpning
Publisert: 24. October 2017
Så er vi igang for fullt. Søndag 10. juni hadde vi offisiell åpning av Hjellup Fjordbo. Litt spennende å se om folk møtte opp. Siden vi skulle selge forfriskninger, ble det et vanskelig regnestykke å vite hvor mye vi skulle bake og kjøpe inn. Som vanlig, tok vi i litt i meste laget 😀 Ja, […]
---
Hjellup Fjordbo AS
Hjelopveien 90
7120 Leksvik
Norway